Cases
Wienerberger
Year

2023

Target audience

Corporate - Experience centers

The challenge

To simplify the decision process for brick producer Wienerberger who has a large number of products.

The result

An interactive and digital showroom where experience is key and where visitors get personalised information.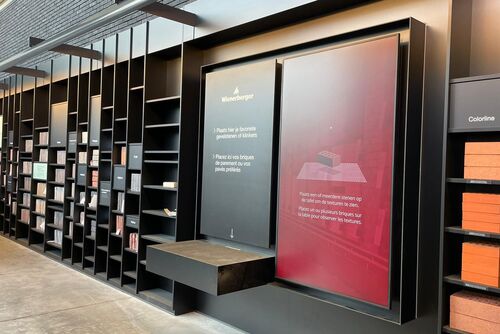 Wienerberger is one of the largest brick manufacturers in the world with dozens of production sites and clay pits.
During the renovation of the showroom in Londerzeel, architectural firm B2AI contacted us for the multimedia. Wienerberger was looking for a way to interact with its visitors while simplifying the decision-making process at the same time.
The brick manufacturer's wide range of products turned out to be the biggest challenge. Therefore, Wienerberger decided to gather information about customers' needs even before visiting the showroom. On the website for instance, you can make an appointment, indicating whether you are a consumer, contractor or architect. In addition, you can create a mood board, allowing advisers to get an idea of the customer's needs in advance.
Interactieve technologie in de showroom
Upon arrival in the showroom, the customer can then register and make a follow-up appointment later if necessary. In addition, we decided to use interactive technology and RFID readers, so each brick was given a unique RFID sticker. When a customer then puts that brick on the table, relevant information immediately appears on the screens. It's even possible to compare two or three bricks with each other.
Besides, there is a large video wall in the showroom where there is space for temporary promotions, projects, inspiration, ...
After the interactive visit, an adviser takes the customer to a sales booth. This is an office equipped with the necessary technology to go over the visit in detail.
All multimedia in the showroom switches on and off automatically thanks to controls via the Xperify software platform.
In short: a showroom where experience, inspiration and personal information are key!
Looking for an interactive experience to convince your customer?