Cases
Joris Ide
Year

2022

Target audience

Corporate - Showrooms

The challenge

To add a digital layer for Joris Ide so they can provide targeted assistance to their customers immediately.

The result

An interactive showroom where customers can view Joris Ide's full product range.
This project shows that we don't always have to seek far. Just around the corner at Joris Ide, for example, we provided an interactive experience. This international player in the steel industry approached us via their stand builder for the renewal of their showroom.
At the start of such a project, we first sit down with the customer. We then give various demos in our showroom or at the customer's office, in this case mainly about our software platform Xperify. After that meeting, the business consultant then looks at the possibilities together with a developer. At the end of the process, the business consultant forwards a number of proposals to the client and we then bring one of the concepts to life.
A digital showroom for Joris Ide
To digitalise Joris Ide's showroom, we first added all the products in our software platform Xperify. Then, when their offer changes, they can update it themselves in the platform's dashboard.
Besides the software, we also took care of the hardware in the showroom. We installed a 43-inch video screen and two 55-inch touchscreens there.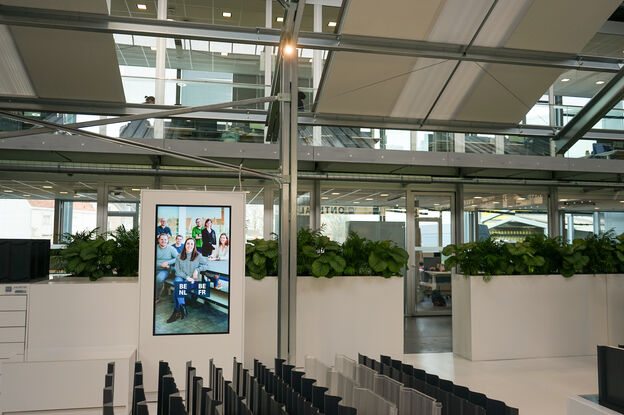 When a customer arrives in the showroom, they immediately see a welcoming screen with general information on. This allows Joris Ide to welcome their customers immediately. All the content can also be personalised via Xperify. For instance, they can add their clients' logo, adjust the colours to their branding, add (different) text, ...
Further along in the showroom there are two large touchscreens where customers can consult the full range. A menu structure allows them to scroll through different categories and dig deeper into specific products. This way, they can easily find the most accurate information. The main advantage of a digital showroom is that the assortment is always up-to-date.
Even with a limited investment, you can therefore make a big difference!