Cases
Classen / David & Ehrig
Year

2022

Target audience

Corporate - Showrooms

The challenge

To deploy the existing product management system cleverly in the physical showroom.

The result

A digital and interactive showroom where employees themselves can change the content and introduce any product at any time.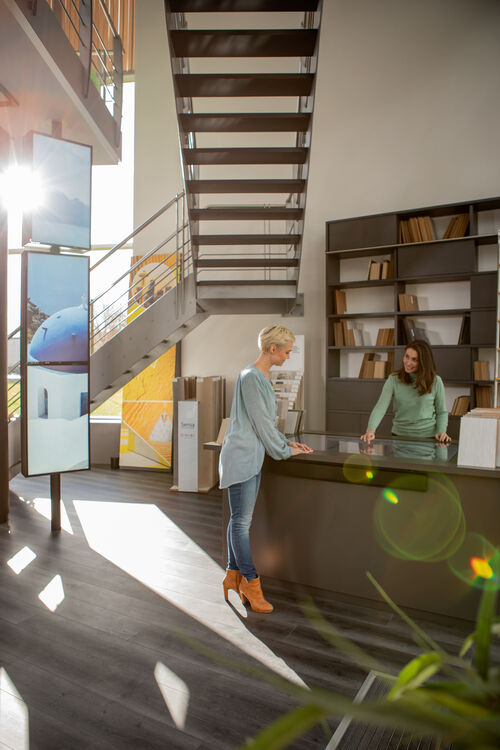 Classen GmbH / David & Ehrig bv has been a loyal customer for several years. We recently revamped their entire showroom. Marketing Manager Bjorn Deloof tells more about it in the interview below.
Who is Classen and who is your target group?
"On one hand, we have our business manager Mario David who is responsible for flooring sales in Western Europe for the German Classen group. On the other hand, there's his wife Astrid Ehrig, who focuses on interior design with her team and who also runs her own interior design shop in Knokke."
"The building in Izegem is actually the office and showroom for Classen Western Europe. However, it is important to know that we do not target private individuals. Our target group consists of buyers of laminate flooring such as DIY chains and wholesalers. Think of Castorama, Brico Planet, Gamma, B&Q, ... Those are the customers who come over here."
"It was therefore of great importance to be able to quickly change the look and content of the showroom. Moreover, the Classen group has other branches around the world and there, too, the intention is to extend the same content."
How did you end up at Ocular?
"I have known Nicolas from before there was the idea of your own platform, we go way back. I was working in an advertising agency myself at the time and there we were looking for a way to increase the efficiency of our exhibition booth. Ocular was already known for interactive experiences and that's when I first came in touch with you."
"Some time ago we were looking for a suitable partner to set up our own product management system and I immediately thought of you. That's why we designed 'The Qube' together, a system where all the sales and marketing information can be found and linked. Ocular already was a long-term partner of ours, but we recently wanted to go a step further. We then discovered the possibilities of Xperify and all the pieces of the puzzle fell into place. Thanks to the software platform, all content stays up-to-date, we can share information quickly, we are able to extend different media on various screens and locations, ..."
"Our ultimate goal is to eventually offer that service to our customers. For example, look at Gamma where end customers go. There, too, we would like to control and update the various screens."
Thanks to our digital showroom, everyone gets to see relevant content, we appear to be professional and we can easily interact. So the tone is immediately right and the first impression is successful.

— Bjorn Deloof, marketing manager at Classen GmbH / David & Ehrig
What was your need?
"Classen is a hugely innovative company and we soon realised that 'fygital' (the combination of the physical and digital aspects) is growing in importance. The biggest challenge lies in the wide offer: we have over 3,000 products. This makes it impossible to physically display all the floors in a showroom and it's even more difficult to do so in an attractive way. We soon reached our limits in terms of storage as well. That is why we decided to fully focus on digitalisation. Thanks to realistic visualisations and other engaging content, we can present our full range beautifully. The interactivity involved is also a plus."
"Moreover, it is a good thing for our corporate image as well. Classen has one of the most advanced factories in the world and has the latest robotics, but we didn't always broadcast that to our customers before. So it was important to extend the high production standard everywhere, both in our sales and marketing."
"In addition, Xperify provides more structure in our communication. Whereas each salesperson used to tell a different story, there's a common thread now. We have a grip on our story in the form of a clear scenario and this comes across much better. Our showroom is basically always ready to take someone into the world of Classen or David & Ehrig. Even our factory visits are done through the platform. Now we can prepare a short intro at the beginning, go over the agenda, make room for feedback and questions, ..."
What is the biggest challenge?
"That's especially lying with us internally. We came from a time when everyone just made different presentations and we have come a long way in the meantime, but there is still a lot of room for improvement. We definitely intend to exploit the many possibilities of the platform further in our showroom and work out many more scenarios.
What was the final result?
"For well-known reasons, we made a bit of a false start, but the visitors who did get to our showroom already praise it. Thanks to our digital showroom, everyone gets to see relevant content, we have a professional appearance and we can easily interact. Therefore, the tone is set right away and the first impression successful.
What are the reactions of the employees?
"Everyone is very excited. We have a fairly young team that really wants to move forward and that is grateful for a tool like Xperify.
For instance, we also provide our marketing presentations via the platform, as well as our training courses. In addition, our marketing department is especially happy with the new image because of this. Finally we are on the same level as the factory, we radiate professionalism and are very proud of that."
Where does Xperify make a difference for you?
"The biggest difference is that it forces you to work in a structured way. That benefits both our team and our customers. In the beginning it takes some getting used to, but internally everyone quickly got along with Xperify. Another advantage is that we don't have to rely on a graphic designer or a developer for everything. Anyone can easily change or update the content and that is a great added value."
Thanks, Bjorn! Good luck in your digital showroom!