Blog
Curved wall at the HZ University of Applied Sciences
Year

2023
Arne Van Vyve has been working as an AV engineer at Ocular since 2011. He has already done the engineering on numerous projects and did it this time as well for our collaboration with HZ University of Applied Sciences.
How did you come up with the idea of the curved wall?
"Such an idea doesn't come up overnight. It involved a long preparatory process in which we worked towards one goal: to create the ultimate immersive experience for co-creation. The idea to effectively build a curved wall came gradually, after several meetings together with our general manager Nicolas. The idea immediately appealed to me on paper, but of course it is a bit more complex to start building something like that."
"For specific LED solutions, we have already been working with our partner Leyard, a leader in high-end LED solutions, for many years. Together with our point of contact Cris Tanghe, we looked at the various possibilities for 2D and 3D. This is how we ended up with a curved wall measuring no less than 5.4 metres wide and 2.4 metres high with a radius (distance to the beam) of 2377 mm. The smaller that value, the more curve there is."
"The total resolution of the wall is 4320 x 1620 pixels. There's a pixel pitch of 1.2 mm which is really extremely small. This means, therefore, that you can barely tell it's a LED wall if you stand one and a half metres away. The quality of the display is wonderful which makes the content look really, really good. Our configuration allows you to experience the content in an immersive and interactive way."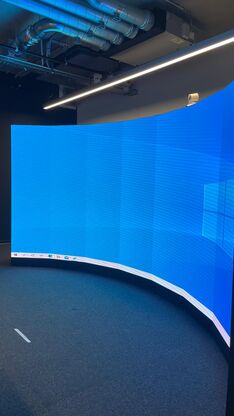 What makes a curved wall different from a regular video wall?
"You don't come across a curved wall like this every day, obviously; I had never seen anything like it in person either. It sets the tone from the very first second. Moreover, the immersive aspect of such a curved wall is incredible. It really feels like you are actually in the middle of a certain environment. As a result, the possibilities in terms of content are endless."
"HZ University of Applied Sciences also had the specific request to be able to hold training sessions and workshops, showing 3D models on the LED wall. The curved wall is extremely suitable for applications like this, especially in combination with Thinkhub's software. In addition, the wall in this project is coupled with an enormously powerful rendering engine for optimal image quality and performance. It is therefore a combination of a unique structure, a gigantic curve and an exceptional technology."
"We applied the principle of shared VR here, that way you get a shared immersive experience. That's the big difference with VR glasses: you can experience everything together during shared VR, it's not an individual experience. You gain insights in 3D together. You can go through data and models and immediately discuss them among each other. With VR glasses, that's not possible since everyone experiences it individually."
What does HZ University of Applied Sciences use the curved wall for?
"On the one hand, the university uses the curved wall in 2D for online video calls. As I mentioned earlier, there is also software from Thinkhub on the curved wall, making the system interactive.
A touchscreen next to the wall allows HZ University of Applied Sciences to examine all kinds of documents, images, videos, and so on. People who follow virtually can see all of this happening as there is a camera facing the audience and one facing the wall itself. From anywhere, they can therefore engage in the conversation and brainstorm on certain topics."
"In addition, they can interact with each other in 3D, which is really unique. There are ten 3D glasses and gloves in the room with tracking technology, we use OptiTrack technology for motion capturing. The technology behind this works extremely well and we have quite a lot of experience with it as well. Did you know that they even use OptiTrack cameras like this in series and films? On the wall itself, various 3D models can be accessed and examined."
"In front of the curved wall there is a large table where students, partners, researchers, etc. can sit down to work together on projects. There is usually one person at the front who explains and tries different things, although they can also work in cocreation on the wall."
"In conclusion, it's a unique project where we've turned our years of experience into the ultimate immersive room. It's an incredibly beautiful project that I enjoyed working on."
Thanks for the hard work, Arne! The end result is quite something!