Cases
Migration Museum
Year

2022

Target audience

Leisure - Museums & exhibitions

The challenge

To make sure that every visitor is serenely immersed by a tough theme.

The result

Projection on ultra-thin canvases combined with touching images.
The Migration Museum came to us to add an extra dimension to their permanent exhibition. On the ground floor, visitors discover various testimonies of migrants and on the upper floor, they experience in a serene way what it is like to cross the sea as a migrant.
In this last room, the aim was to leave a lasting impression before returning home. We therefore chose to work with ultra-thin projection fabrics to achieve a hologram effect without distracting from the shipwreck that lies in the space. That subtle projection and various props make it seem like you are inside the wreck yourself.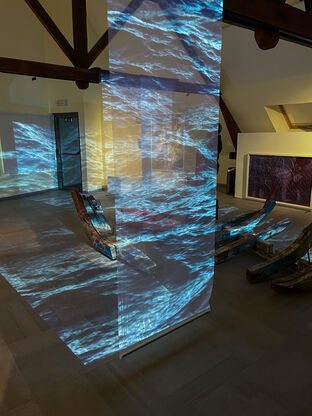 Obviously, the content here is incredibly important, just like the audio and the projection on the canvases. The combination of these three elements really makes the difference in this project and takes you into a different world for a moment.
Meer weten over hoe musea een extra, digitale laag geven?