Cases
Accenture
Year

2020

Target audience

Corporate - Lobby experiences

The challenge

Creation of a unique eye-catcher in the lobby of Accenture.

The result

An impressive ceiling installation that interacts with every visitor.
Accenture asked us to create an unforgettable experience for the entrance of their new office in Tour & Taxis. And of course they didn't have to ask us twice.
We put our heads together, unleashed our creativity and this is the result: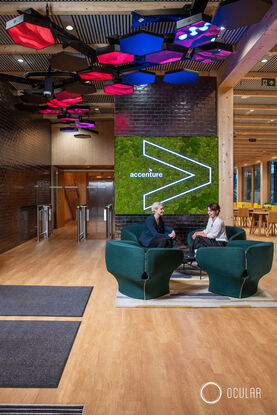 A giant installation on the ceiling that reacts to each visitor.
Crazy, right?
Find out how we pulled it off below:


There are three small motors in each screen. This enables each screen to tilt individually in different directions. By default, there plays an animation based on the artwork below. Fun fact: the artwork is actually hanging in Accenture's entrance hall.
In addition, a 360° camera detects any movement in the space. When someone walks under the installation, it plays an effect that follows the person in question. Meanwhile, the screens tilt in a subtle wave motion. So with each visitor, the animation is different. Accenture's logo also appears on the screens at random.
Accenture can change the colours of the animation itself, play a video across all screens or update the logo if necessary.
Looking for an eye-catcher yourself? You've come to the right place!